Founded in 1979 by the pioneers who introduced the innovative exterior insulation and finish systems (EIFS) technology to North America, the Senergy brand and those who represent it have always played a key role in the growth of the EIFS industry.
They were among the founders of the EIFS Industry Members Association (EIMA), and are Lifetime Members of the Association of the Wall and Ceiling Industry (AWCI). Today, as a leading EIFS and stucco manufacturer in North America, their employees actively participate in:
ASSOCIATION OF THE WALL & CEILING INDUSTRY
EIMA
EIFS COUNCIL OF CANADA
NATIONAL ONE COAT STUCCO ASSOCIATION
THE CONSTRUCTION SPECIFICATIONS INSTITUTE
US GREEN BUILDING COUNCIL
NATIONAL ASSOCIATION OF HOME BUILDERS
AIR BARRIER ASSOCIATION OF AMERICA
ALL MAJOR MODEL BUILDING CODES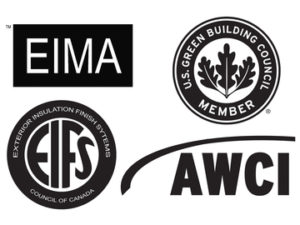 They are a company comprised of highly experienced, building engineers and sales, technical support, and application consultants, all committed to helping you make intelligent choices in materials and systems that match the needs of your building project. They are equally knowledgeable chemists and plant operations personnel ensure the utmost in batch-to-batch product quality.
Senergy has a commitment to service excellence through the years has been recognized by several local and national groups, including the AWCI as its "Supplier of the Year."
In keeping with their tradition of training, BASF Wall Systems is also a certified AIA Continuing Education Provider.